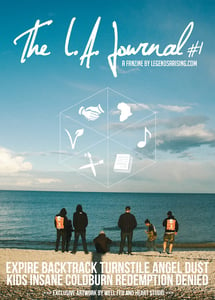 €

3.00 - On Sale
This is The L.A. Journal #1, a fanzine by LegendsArising.com that focuses on the good things in life: hardcore music, traveling, art, vegan food, opinions, and our community.
The zine includes interviews with Expire, Backtrack, Turnstile, Angel Du$t, and Kids Insane. There is a tour report by Coldburn and city features on London and Berlin. Well Fed and Heart Studio are featured with amazing (exclusive) artwork and interviews. We followed Revelation Records a day in their office and Kasper of Redemption Denied put together his ideal survival kit for touring. On top of that we included three vegan recipes, two columns and much more.
The L.A Journal is an A5 format, full color fanzine, printed on 100% recycled paper, containing 60 pages of reading material.
Please contact us via [email protected] for any questions.
If you're interested in stocking The L.A. Journal or want order more than two copies, get in touch through the e-mail address above.