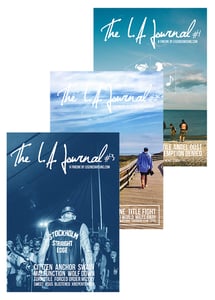 €

7.50 - On Sale
*This is a pre-orders. Orders will be shipped on December 7th.*
This package deal includes all three issues of The L.A. Journal.
#1 features interviews with Expire, Backtrack, Turnstile, Angel Du$t and Kids Insane. There is a tour report by Coldburn and city features on London and Berlin. Well Fed and Heart Studio are featured with exclusive artwork and interviews. We followed Revelation Records a day in their office and Kasper of Redemption Denied put together his ideal survival kit for touring. We also included three vegan recipes, two columns and much more.
#2 includes interviews with Title Fight, Cold World, Miles Away, Rude Awakening, Suburban Scum, and LOTUS. There is a tour report by Bane and a city feature on Barcelona. Photographer Pablo Garcia Rodriguez and graphic designer Florian Schommer are featured with amazing (art)work and interviews. Richard of Conqueror put together his ideal survival kit for touring and on top of that we included three vegan recipes, three columns and much more.
#3 includes interviews with Citizen, Malfunction, Wolf Down, Blistered and Mizery. There's a tour report by Anchor, a studio report by Swain, a skateboarding feature with members of Turnstile, and a new feature called "My Favorite..." with Nic from Forced Order. Patrick Flynn of Sweet Jesus (and Have Heart) selected his essentials to survive life on the road and wrote us a letter, John Olley of xRepentancex wrote a column on mental illness and Tim did a city feature on Split, Croatia. To top is off, Staffan Snitting (xStaffanx) contributed some amazing artwork relating to refugee crisis. And of course, there's much more.
The L.A Journal is an A5 format, full color fanzine, printed on 100% recycled paper, containing 60 pages of reading material.
Please contact us via legendsarising@gmail.com for any questions.